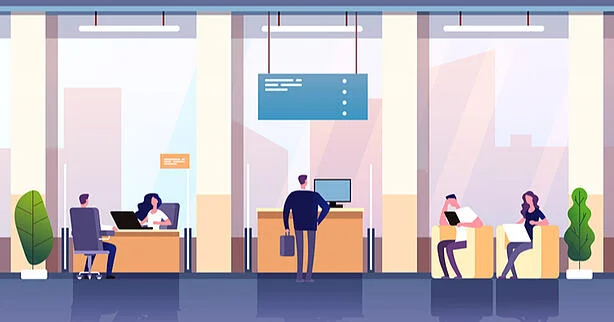 A key change in 2020 was the way we bank. Due to pandemic and busy work schedules, today's bank users prefer to solely engage in mobile banking. These new customers now expect a complete digital banking experience at their fingertips, anytime and anywhere. They demand the same security, personalization, technical capabilities, accessibility, and customer service of visiting a branch, but with the reliability and ease of virtual access.
Of course, the brick-and-mortar bank isn't going anywhere, however, the last year accelerated a trend that was already underway: customer-centric banking for the new, even more digital end user.
Understanding this Shift
(Stats from Fortunly article)
80% of all US banks provided online banking services. (GOBankingRates)

89% of American bank account holders use mobile banking for account management. (Business Insider)

The US financial industry's total branch count went down by more than 1,500 over a period of 12 months. (American Banker)

94% of mobile banking customers use online banking platforms at least once a month. (Deloitte)

It is estimated that the deployment of chatbots will save the banking industry $7.3 billion in annual customer service costs by 2023. (Juniper Research)

Digital banking stats predict that the total number of online and mobile banking users will exceed 3.6 billion by 2024. (Juniper Research)

Approximately 82% of account holders mention their bank's digital platforms as an important reason they haven't switched financial institutions. (Consumer Affairs)

According to a recent survey, 63% of US citizens said they were more inclined to try a new digital app for banking than they were before the pandemic. Also, 82% said they were concerned about paying a visit to their local banks. (Lightico)
What of Physical Branches?
Health concerns and convenience have kept most customers home, however there are still some that visit their physical local branches. They come with the biases of the efficiency, ease, and personalization of mobile banking. Banks, therefore, need to transform their branches as well; now physical office management and operations must also digitize and optimize in such a way that they can meet the new expectations of the banking client. This need for quick service is even more critical now days with the pandemic, where individuals are even more precautious about human interaction.
To End...
This past year has accelerated the digitization of banking, but at Cobiscorp, we've seen this transformation for years now. That is why we work in partnership with our clients to make them not only incredibly agile to excel through any banking evolution, but we empower them to add value and lead the market, which at the end of the day is in service of their customers.
We can help!
One of our most powerful offerings is COBIS OmniTeller, this solution provides bank branches with the agility needed to meet the expectations of the new customer. Through COBIS OmniTeller, banks can execute and administer secure and efficient financial transactions, as well as assure cash control. The solution also provides the bank the ability to be where the customer is, for through its secure cloud-based web application, customers can also access teller services from anywhere, guaranteeing a memorable customer journey both in-person and online.
So, what are you waiting for? Let us help you transform, so you can have the financial agility to excel today and become a leader. Contact us by visiting our website. We look forward to hearing from you!
Interested in hearing about other popular financial technologies innovations. Read of of our most popular posts about the Bright Future of Financial Agility.